We've been much too quiet lately, apologies for that, and I've decided the solution is simply to start talking. Cue the Pink Floyd.
Legacy Games
Zombie Moon has more missions. Guts and Glory is sunset, but playable if you have the game. Star Pirates now has a Leviathan class ship. Gates of Camelot is looking old, and either needs a facelift or a sunset. Spy Battle will get Ascension 3 in the coming months; balancing new things in a long running title is hard.
Badlands Max Carnage (BMC)
Despite being available in only Canada and Australia so far, Badlands Max Carnage continues to gain users. Our worldwide launch timeline however is being heavily impacted by marketing plans critical to the long term success of the game. We are continuing the update the game, with last week's update adding PvP rank to the leaderboards, a new store layout and further performance fixes. We continue to listen to what you think needs to improve in the game — if you have comments, please tell us.
The game server however is still not sufficiently reliable for a wider launch and we've resigned ourselves to the fact that we're going to need a new partner for the server hosting. Server migration should occur sometime in December.
December is a challenging time to market a game, as many types of advertising is double price this time of the year. So expect BMC to make a big push just after Christmas and into the new year. We have a large (for us) promo/ad budget to use by Feb 28th. We do social games — and social games get better with more people!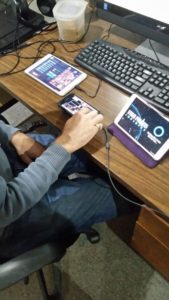 Star Pirates Infinity
Development on Star Pirates Infinity is progressing well with card art nearing completion and we have a working beta that allows us to play a few matches a day.. We're currently doing only a closed beta but may open it up to the community as we get a little further along. Our next major consideration is going to be localisation – we're close to a final word count so we can start the process with our primary translation partners. Our hope is also to leverage local game developers who are multilingual to perhaps offer more than the standard EFIGS regions.
Part of offering multilingual is the fact that SPI will allow for play across languages. The borderless nature of videogames is such that a larger number of markets can be supported with a bit of planning and effort. As well as being available on multiple platforms, multiple languages helps games reach a bigger install base. Something very important for a game designed to leverage social experiences making Daily Active Users (DAU) one of the Key Performance Indicators we'll be tracking at release.
Happy Holidays from all of us at SHG Studios!